Talking with Ben & Jerry's
A history of dialog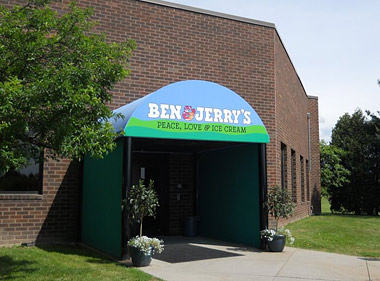 Ben & Jerry's
corporate headquarters in South Burlington, VT

Vermonters for Justice in Palestine (VTJP) made extensive efforts to communicate and meet with Ben & Jerry's. We deferred public release of information about the company's activities in Israel and the occupied Palestinian Territory because we believed that Ben & Jerry's would respond directly to our concerns and take action commensurate with its Social Mission.
We sent five letters to Ben & Jerry's over a period of a year. The first (March, 2011), was addressed to the company's founders, Ben Cohen and Jerry Greenfield, expressing our concerns and suspicions about Ben & Jerry's commercial activities in the occupied Palestinian Territory and in Israel. Mr. Cohen did not respond. Mr. Greenfield did, and referred us to the company's current management in Vermont. It was only after our fifth letter that Ben & Jerry's CEO, Jostein Solheim, Rob Michalak, Global Director of Social Mission, and Jeff Furman, President of the Board of Directors, agreed to meet with us in April, 2012 (Mr. Furman participated by telephone from Ithaca, New York.)

Before this, there had been a brief and inconclusive telephone conversation between Mark Hage of VTJP and Rob Michalak of Ben & Jerry's on April 29, 2011. The latter was unable to confirm that the company's ice cream was being sold in illegal Israeli settlements and said he would research the matter. We did not hear back from him. The only written communication from the company was a one-page letter from CEO Solheim in May, 2011. His letter, from our perspective, begged more questions than it answered and, most critically, was silent on the question of sales to Israeli settlements. Our fifth letter to the company in March, 2012, by contrast, stated that we now had solid evidence from a field investigation in occupied Palestine by one of our members, that Ben & Jerry's ice cream produced in Israel was being sold in Israeli settlements in the occupied West Bank and East Jerusalem. Our letter also informed them that their products were getting to the settlements via 'party carts' dispatched by the factory in Kiryat Malachi.
We have had two meetings with company officials in April, 2012 and April 30th 2013. The first meeting was a frank, wide ranging and cordial exchange lasting two hours. We learned that the company's Israeli licensee, Avi Zinger, has a long-standing relationship to Ben Cohen, and that contractual oversight of the Israeli franchise remains with Ben & Jerry's in Vermont, not Unilever, its parent company. We were told the franchise's contract was up for re-negotiation in 2012. The company did not dispute it was selling, marketing and catering to illegal Israeli settlements, but asked for time to consider our information and their future options, including potential ramifications under Israel's recent anti-boycott law if it decided to terminate sales in Israeli settlements. Mr. Solheim also consented to bring our concerns to their Board of Directors meeting in May 2012 in London, and he made a commitment to meet with us after that. We were particularly heartened by this May 31st e-mail from Rob Michalak to Mark Hage in the wake of the London Board meeting where, as indicated below, our issues had been on the agenda:
" – we [Ben & Jerry's] have had deep and meaningful discussions at the Board level and the Senior Management level. Those discussions require our own internal follow up, which will take a little time. This is a complex matter and it requires thoughtful yet intentional steps on our part along the way. We do not have specific timing on each milestone in that journey, but it is a priority item on our agenda. Please understand that it will take us a few weeks to sort through our own process of learning and promulgating next steps. We will keep you informed as we proceed. If you would be open to an update nearer to the end of June on our progress to that point, we would be most grateful."
At the second meeting five members of VTJP were invited to meet after the Campaign launch, and after 'Free Cone Day' 2013 with the CEO, Director of Global Social Mission and the CFO, as well as the Chair of the Ben & Jerry's Board of Directors, Jeff Furman. (A meeting scheduled for July 19, 2012, had been postponed by the company at the last minute.) The April 2013 meeting and achieved a higher level of mutual understanding and assurances that the Company would continue to examine its activities in Israel, (see our Campaign News). Company officials resolved to provide VTJP with updates of any actions they may take with regard to their activities in Israel and the Occupied Territory.
On a very positive note, in October-November 2012, the Chairman of the Board of Directors, Jeff Furman, traveled to the West Bank and East Jerusalem with a delegation of American civil rights leaders. There he met with Palestinian and Israeli anti-occupation and BDS activists and saw first-hand the inhuman consequences of more than 45 years of military occupation and settler colonization. We understand that Mr. Furman's trip was "personal", not formally undertaken on behalf of Ben & Jerry's. In fact, we had urged company executives and Board members to travel to the occupied Palestinian territory. We are grateful to Mr. Furman, a long-time anti-racism activist, for doing so. In a telephone conversation with us in January, 2013, he shared some of his experiences and impressions of his time in occupied Palestine.
However, subsequently, we received a letter from from Rob Michalak, Ben & Jerry's Global Director of Social Mission dated April 16, 2014 indicating that Ben & Jerry's desired no further discussion with us. Then, on April 10th 2015, just before this year's 3rd annual Free Cone Day protests at Ben & Jerry's scoop shops, the company posted this statement on its website. This statement makes no mention of settlements, or of occupation, or of Ben & Jerry's ice cream being sold in those settlements. Here is the full text of our response.
On hearing that Matthew McCarhy had replaced Jostein Solheim as CEO of Ben & Jerry's, we requested a 'get acquainted' meeting, and did meet with Mr. McCarthy, Rob Michalak, (Director of Social Impact Purposes) and Mike Graning, (Chief Financial Officer) on February 20th, 2019. Mr. McCarthy explained that he had no intention over the next few months of changing anything Ben & Jerry's is doing now, intending to listen to others and encouraging dialogue. Also, he would be looking at what other businesses were doing on the question of Israel/Palestine. He believed that business should be in the business of doing good; also that our society must "re-think capitalism."
---
So, we are still calling on fellow Vermonters and people of conscience around the world to urge Unilever to agree with Ben & Jerry's and to support their Social Mission. This means that Unilever must comply with Ben & Jerry's decision, and now prevent Avi Zinger from using the Ben & Jerry's name and branding in his business in Israel. Unilever should end all business dealings in Israel as well as ending sales of the Ben & Jerry's ice cream in illegal settlements on confiscated Palestinian land.