---
Ben & Jerry's Sued by Israeli Franchise owner.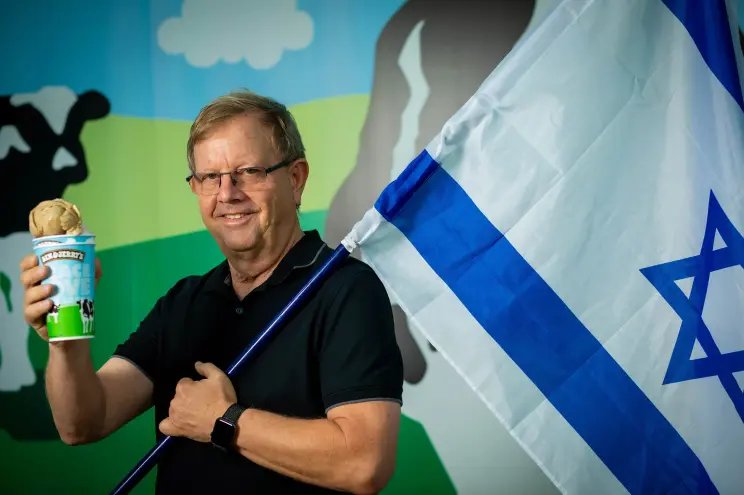 Israeli franchise owner Avi Zinger
still wants to sell in the illegal settlements.
Photo:Eric Sultan, for NY Post.

Ben & Jerry's Israeli franchise owner has filed a federal breach of contract lawsuit against Ben & Jerry's, claiming his license wasn't renewed because he refused to abide by the decision not to sell products in "Occupied Palestinian Territory". Recent actions by US States and Israel emphasize the pressure on Ben & Jerry's and on Unilever, and the risk of them backing out of the July 2021 statements. The 'stop selling in settlements' and the 'stay in Israel in some form' are mutually incompatible under Israeli law. So their self-imposed deadline for the contract is end of this year – VTJP must stay vigilant and be prepared especially for any backing down.
See:
– Israeli ice cream maker sues Ben & Jerry's over boycott.
For NY Post – By Carl Campanile – March 3, 2022
– Unilever can't side-step country's anti-boycott law – Israeli Ben & Jerry's

– Ben & Jerry's 'woke' posturing on Israel 'melts parent company profits' claim campaigners UK-based multinational Unilever has lost £15bn in stock market value since July 2021. Jonathan Sacerdoti for The Jewish Chronicle – February 10, 2022 15:33
– Unilever can't side-step country's anti-boycott law – Israeli Ben & Jerry's
'There is no legal possibility to continue selling in Israel without selling in Judea and Samaria' By Tovah Lazaroff for The Jerusalem Post Israel News – February 13, 2022
– Iowa governor signs bill targeting Ben & Jerry's over Israel, adopts controversial antisemitism definition in state
Iowa Governor Kim Reynolds has signed legislation to expand the state's anti-BDS law, and adopt the controversial IHRA definition of antisemitism.
By Michael Arria for Mondoweiss – March 25, 2022.
–
Ben & Jerry's Israel CEO Says 'I Refuse to Boycott My Neighbors,' Calls Out Unilever 'Hypocrisy'. by Shiryn Ghermezian for The Algemeiner.
– Ben & Jerry's stops making ice cream in Israel. Its Israeli manufacturer is suing.CNN Business – by Jordan Valinsky – March 3, 2022
---
On July 19th,2021 Ben & Jerry's announced:
Ben & Jerry's Will End Sales of Our Ice Cream in the Occupied Palestinian Territory. We believe it is inconsistent with our values for Ben & Jerry's ice cream to be sold in the Occupied Palestinian Territory (OPT).
But apparently nothing has changed.
If it was incompatible with their values then, why is it not now?
In 2017, containers of Ben & Jerry's ice cream were seen at the Shufersal Store in Pisgat Zeev.
In 2018, a video showed B&J ice cream freezers in the Israeli illegal West Bank settlement of Tekoa, near Hebron and Bethlehem. Tekoa is built on 1071 dunams of land which Israel confiscated from the Palestinian citizens of Tuqu'.
The Shufersal stores in West Bank settlements are shown here in the map at (hover over icons to get details).
The Pisgat Zeev settlement is 35 miles from the factory.
Boycott Ben & Jerry's
Peace, love & occupation don't mix.
Pressure Ben & Jerry's to hold fast to their commitment to stop sales of ice cream from their Israeli franchise in illegal, Jewish-only settlements in the occupied West Bank and East Jerusalem, transported on Jewish-only roads, on trucks with Jewish-only license plates, passing easily through military checkpoints that bedevil others. Then end all their business in Israel by ending the contract with their Israeli licensee in compliance with their social mission.
Since 2013, thousands of individuals and nearly 250 organizations in 20 countries have called on Ben & Jerry's to stop sales to Israeli illegal settlements and to publicly oppose Israel's occupation and settlements.
---
---
---
---