A Cantastoria (what's that?)

Here's another way to make a statement. You can draw a crowd with creative artwork and one or two (or more) performers who use the time-proven technique of the
Cantastoria
. Then hand out leaflets to the audience now curious to find out more.This VTJP "No Justice – No Sweets" cantastoria was performed on Free Cone Day (April 14th 2015) in Burlington VT at the University of Vermont and the downtown flagship Ben & Jerry's scoop shop.Make your own artwork, then narrate the story the artwork shows, and make your next Free Palestine action even more effective.
And record a video too!
What's a Cantastoria? Here is the Wikipedia definition.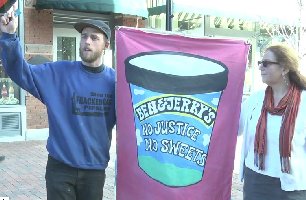 Video of Cantastoria performed outside Ben & Jerry's flagship scoop shop in Burlington, VT, on Free Cone Day 2015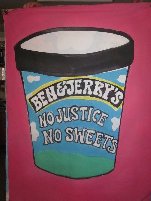 "No Justice – No Sweets" Artwork